AgriBusiness Connect has an unparalleled ecosystem and serves as the driving force behind the nation's leading agribusiness innovation hub.
CEO
Grant is the CEO of Innovation and Growth for the FKG Group and is currently leading the developing of AATLIS Innovation Precinct and overseeing AgriBusiness Connect. The development will be a multi-faceted workld-cass technology, innovation and fresh food district which will incorporate an integrated agriculture community, transportation and freight access, low cost energy solutions and collaboration and technology focus.
With over 20 years experience working in commercial accounting and business consulting roles, Grant has been an integral part of the FKG Group since 2006, including 12 years as the company CFO.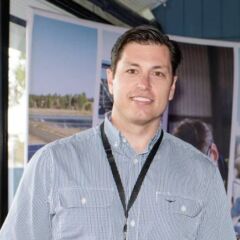 AgriBusiness Connect Director
A fourth-generation farmer, Thomas has an intimate working understanding of agriculture and is passionate about innovation and driving the sector forward.
Thomas is focused on sustainable development and transforming the sector into a collaborative ecosystem where innovators, industry and government work together.
He started his agricultural career at age 10, helping his family drop off eggs at the Queensland Egg board.
The role of Director is a natural progression for Thomas, who is also Director – Strategy Innovation for AATLIS and FKG Group's Projects Manager.
Program Manager
With a background in innovation, publicity, digital supply chains and, most recently, the University of Queensland's ilab Accelerator program, Natalie is well equipped to assist start-ups and small businesses within the ag sector to unleash the power of technology and supercharge growth.
Originally from Coffs Harbour, Natalie has an affinity with rural and regional Australia, and is excited to now be creatively driving innovation and sustainability for agribusinesses.
Solutions focused and strategic, Natalie's expertise in communications, marketing and stakeholder management and eight years' experience in the innovation space, allow her to use big picture thinking to solve problems and direct growth and success.